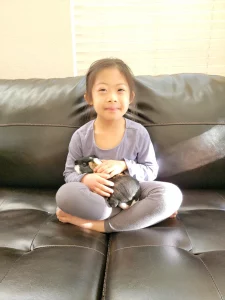 Hoping all had a Happy Thanksgiving! Anna, unfortunately, got sick the week prior to Thanksgiving and so she missed school, but thankfully, we had the whole week of Thanksgiving as well to get better. I feel as though when Anna gets a cold, it tends to last longer than others. This is when I am thankful for pets in the home!
I know with COVID and with everyone staying at home, all kinds of pets- guinea pigs, dogs, were literally selling like hot cakes. At first, I was against it all, only because it would add to the "complications" and "responsibilities" of life, but I also know that it has so many advantages for children. It provides companionship, comfort, emotional support for children. It helps teach about responsibilities and caring for a living animal.
I wanted to share Anna and her interaction with one of our guinea pigs. We have "Teddy", a tan and white guinea pig, and "Bear" featured here.
~Raquel