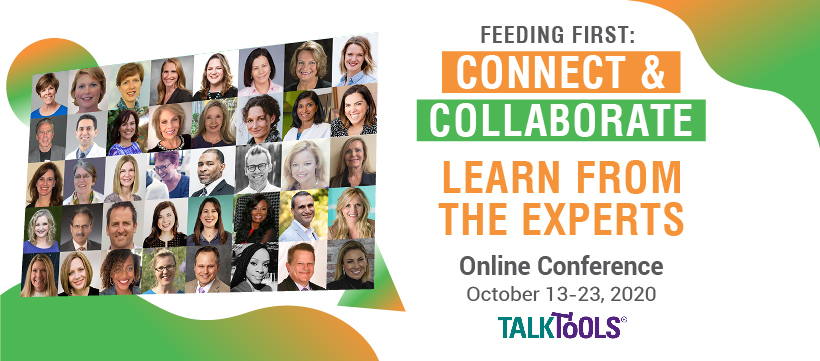 TalkTools Goes Global Again in 2020!
"With the unprecedented success of our first global online conference, we knew we had identified a need among speech and feeding professionals — to equip them with the knowledge and training from a wide variety of experts, so they can effectively collaborate with other professionals on their client teams. We have applied the same model with this conference and are expecting equally amazing results!" – Luke Blessinger, TalkTools President
TalkTools, which has been in the industry for 30 years providing best Oral-placement Therapy (OPT) techniques, training, and tools to clients, therapists and parents is launching its first ever virtual feeding conference on October 13-23, 2020, entitled as Feeding First: Connect & Collaborate.
The agenda includes a diverse group of over 40 world-renowned feeding experts, including Melanie Potock, Diane Bahr, Debra Beckman, Marsha Dunn Klein and Lori Overland. Overland will kick off the conference with a live, virtual keynote address. 
Agenda Tracks will cover the latest hot topics in feeding:
Early Developmental Feeding

Oral-Motor and Sensory Techniques

The Picky Eater and Beyond

Managing Dysphagia

Integrated Feeding Approaches
There will also be an exciting add-on pack available as part of the conference package – Orofacial Myology and Dental Considerations in Feeding:
TOTs (Tethered Oral Tissues)

Airway

Oral Health

Dental Trends
And as TalkTools goes global again, this another exciting and much-awaited event has been featured in several news portal and broadcast media such as FOX 54 (https://bit.ly/3kRxxdJ), AZ Central (https://bit.ly/2RW8LN5), Boston Herald (https://bit.ly/2RWVLGK), WRDE Coast TV (https://bit.ly/331NqIa), and many more. Check this article from WBOC Delmarva's News Leader as they talk about the Feeding First: Connect & Collaborate online conference: http://www.wboc.com/Global/story.asp?S=42556061. 
Our TalkTools Feeding Expert, Lori Overland is kicking off the Conference. 
WATCH THIS VIDEO – https://web.facebook.com/watch/?v=931792293983929&extid=wp16CvcsUJzPV5rQ]
You may watch the Keynote for FREE. Register here to access the presentation https://talktools.com/pages/global-online-conference_keynotehttp://https://business.facebook.com/TalkTools/videos/931792293983929/
Our Speakers are very thrilled to share their knowledge and expertise on feeding techniques. Please join us and learn from the experts. To sign up, please go to this link: https://talktools.com/pages/globalonlineconference_main.